Summer Mountain Retreat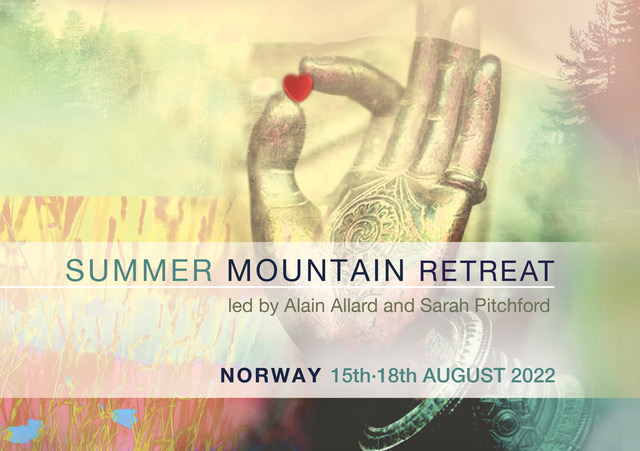 15. august - 18. august, 2022
Alain Allard & Sarah Pitchford
This 4 day intensive is a time to call in Peace and Presence through the breath of silent inner attention.
We come together to be in the still mirror of Nature and see our Self reflected back in the Wind Water Sky and Earth that surround us.
In this beautiful summer mountain retreat, working with movement, sitting meditation and reflection we will dance, fall back and rest.
Time for us all to invite in the deep physical listening of silent embodied enquiry to ground, to loosen and to soften.
Our retreat is located in the still Norwegian mountains about 2 hours from Oslo. We will stay at the beautiful Dharma Mountain Retreat Centre, an oasis of peace, nestled in a glorious natural landscape of mountain river grass and sky.
We begin on Monday afternoon at 14.00 and close at 17.00 on Thursday.
Accommodation at the Centre is for the 3 nights of the retreat.
There is some additional availability for those wishing to arrive on Sunday and leave Friday
Tuition Fees* (in Euros to MIC): 320€ (if paid in full by 10th April).
After that the price is 380€

…or questions? Write to: admin@moves.me.uk
Accommodation and Food are paid and booked separately in NOK and directly to Dharma Mountain. Prices between 2660 and 3260 NOK including all meals. You can book your stay when your place is confirmed.


---
Schedule *
07.00 Mantra and Meditation
08.15 Breakfast
10.00 Music/ Movement/ Meeting/ Meditation
13.15 Lunch
15.30 Music/ Movement/ Meeting/ Meditation
19.00 Dinner

*changes might happen
---
About the course leaders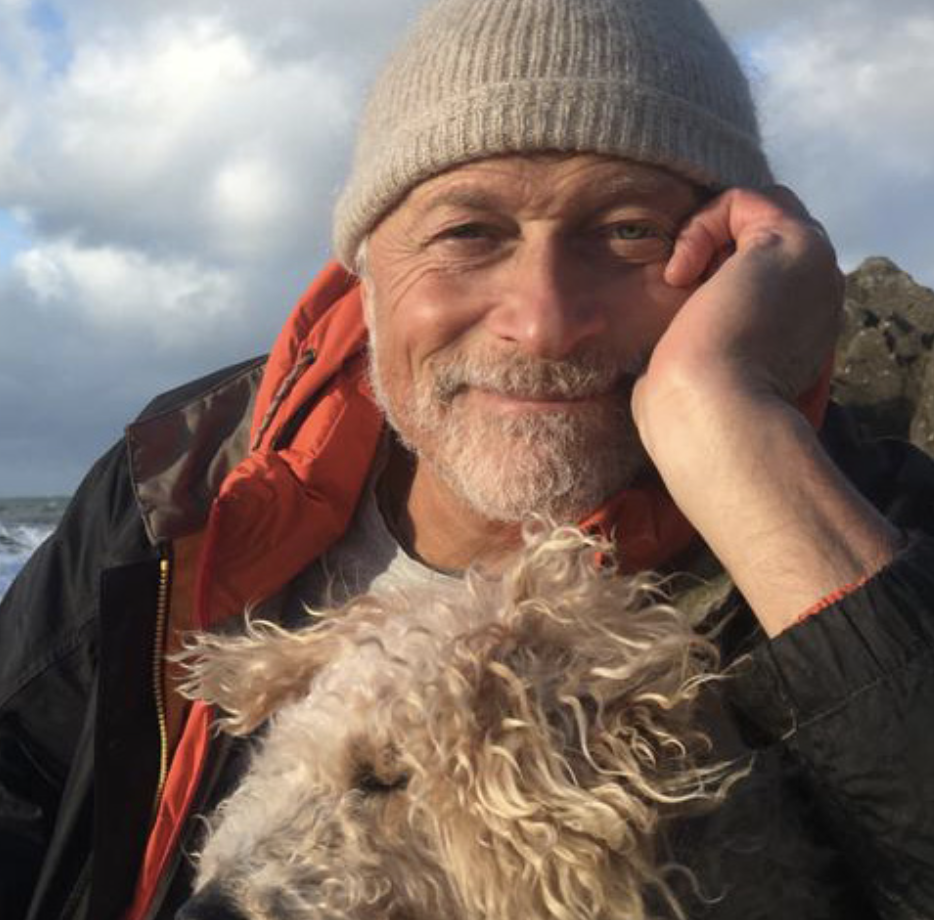 Alain Allard

Born in 1956 Alain has had a varied working life. Encouraged to follow a traditional education and career path he wandered off track from his late teens, unable to tame his free spirit and conform to ways of living that were inauthentic for him.
He dropped out of Oxford University and began a long process of selective self education to support his wish to live in alignment with Truth and Creative Integrity.
He studied and practiced a variety crafts and disciplines including shepherding, fine woodwork, house restoration, Aikido, sociology, philosophy and psychological astrology before beginning, in 1988, and then completing a formal training in Transpersonal Psychotherapy.
As an accredited (UKCP), practising therapist he also worked as a trainer in the field of addiction, and included various aspects of his psychological learning within the extensive range of somatic workshops he led as a 5Rhythms teacher all over the world. His life and work are a continued enquiry into the Physical, Emotional and Psycho-Spiritual nature and possibilities of living in awake awareness. His desire, his practice and the intention of all he shares is the continued learning of how to loosen the grip of conditioning, reactivity and emotional storylines. The goal? … to be in harmony, peace and presence with Life's unfolding intelligence.
He is the author of 2 illustrated childrens' books, a father and grandfather. He is married with Sarah, both of them co-directors of MIC.
---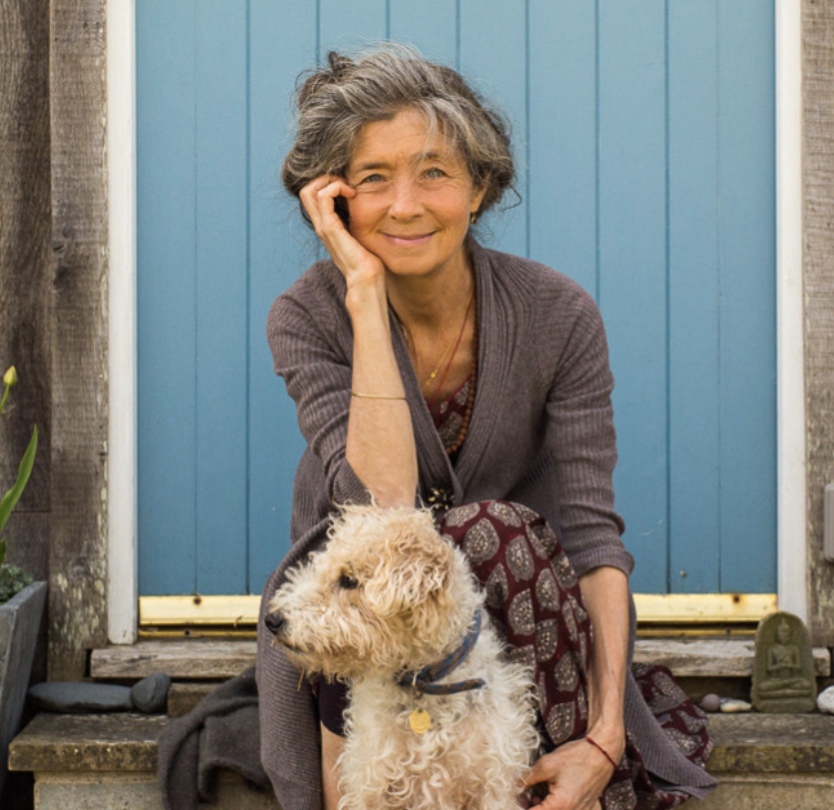 Sarah Pitcford
Movement/dance has been my practice, listening and grounding through breath and body, for over 28 years. As I share my own experience I am constantly learning not only from this ever unfolding within me but from the unfolding I am witness to in others, seeing how it seems we truly are "spirit awakening in our physical body" that we are being asked to consciously realise ourselves in every cell of our body. Consciousness waking up to itself through our physicality.
I am a Laban trained movement therapist and a trained 5rythmns teacher, for which I studied with Sussanah and Y'acov Darling-khan and studied and trained with Gabrielle Roth. I have a strong meditation practise, having worked with various teachers of meditation over the last eight years. This has brought me into working with the merging of these disciplines of movement, silent sitting and constant enquiry into our true nature.
I am a devoted student to the mystery in all that is. I am deeply grateful to all the wise teachers i have and have had in my life, in this I include students; our beloved family and for all of this life, the challenges and the realisation of the light in all there is … my deepening within each breath in and out and realising in me the ever pervading silence and stillness, "imperishable presence".
I have two children and, in 1991, met Alain and his three children and they, and we, over time became a little tribe… my two, his three… makes five and now we are proud grandparents. I am co-director of 'Moves into Consciousness'.
---
Moves Into Consciousness
Alain and Sarah founded "Moves Into Consciousness" (MIC) in 1997. Individually they have studied and practice diverse therapy, creative and spiritual disciplines, and together were trained by Gabrielle Roth to teach her 5Rhythms method, which they taught internationally for 20 years. The strong meditation and devotional practice they have, informs their life and teaching, and is central to their core values and offerings. The work of Moves into Consciousness is to nurture and nourish embodiment, fluidity, and receptivity. This is not a trying to 'think about' and 'get an answer' but the cultivation of direct attunement with Being Here Now.

In this beautiful summer mountain retreat, working with movement, sitting meditation and reflection we will dance, fall back and rest. Read more


---
What earlier participants say:
"Working with Alain and Sarah for ten years has been one of the greatest blessings I have received in this life. They are spiritual masters, in them there is much truth, love and beauty. Their work is always impeccable because it is full of respect and in total coherence with who they are. I always give thanks because they are in this world and I ask that they continue to benefit many beings."

Nuria Rodriguez Lacambra, Meditation instructor and psychotherapist

•

"Alain Allard, in my view, and from my first hand experience of travelling the world to attend his international workshops over this past decade, is simply one of the most skilled leaders and teachers in the mindful movement modalities on offer in the world today. Every time I enrol in an immersive experience in his work, I come out feeling renewed hope for life, from the deep introspection, the healing and the transformation that his unique approach alchemizes in me. Together, with his supportive partner Sarah Pitchford, they bring a powerful combination of mindful movement, meditation, presencing exercises, as well as a background in psychotherapy, all of which feed into unifying our inner landscape, as well as the outer field of the community in attendance. The results are never short of magic, each time. To me this is the kind of work that is needed more than ever for our current divided world; to heal and transform and meet a potential to be a positive change for our communities. Wherever you are, treat yourself with the gift of their teachings, at any chance you may get, and wherever you are in the world!"

Lina Nahhas – Social Innovation specialist – Dubai
•


"I have been working with Alain and Sarah for 14 years and doing a lot of movement and meditation retreats with other teachers also. They are definitely my Teachers. The way they create a sacred and safe space, the way they hold it and allow us just to be with whatever is in us in that moment, make their work the best path I have found. And I really appreciate how the always choose beautiful venues in really special places in nature to help the work to be done. They are wise, compassionate and loving teachers. Can't be more grateful to have them in my life."

Isabel Rui-Wamba