Taijiquan & Qigong – Summer retreat 

7. august - 13. august, 2023
Norsk Taiji Senter
Welcome to Norsk Taiji Senter's annual summer retreat 2023. This year we are returning to the beautiful mountain retreat in the Norwegian Mountains at Dharma Mountain Freedom Resort
Our annual retreat brings an opportunity for deepening dao presence with your Taiji and Qigong practice.
Beginning with an early wake up call for our dao now meditation followed by Taijiquan practice, pushing hands and qigong during the course of the day. With ample opportunity to enjoy the wonderful nature and receive what the nature has to offer.
We will be in an ideal setting for silence, deep dao reflection, walks and talks plus the flow of water brush painting to inspire our creativity.
This is our fourth visit to Dharma Mountain and we look forward to returning and exploring more deeply the abundance of nature there and practicing our Taiji and Qigong forms outside once again.
We will also be served delicious healthy vegetarian food and care from our very able facilitators.
---


Who the course is for?
The course is open to all levels both beginners and more advancing practioners from all over the world.
Lets take the time out it takes to prioritise our essence for a more fulfilled and poingnant presence in our daily lives.
The week is an exploration to intensify and cultivtate our qi for self develpoment.
Teacher: Pamela Hiley

---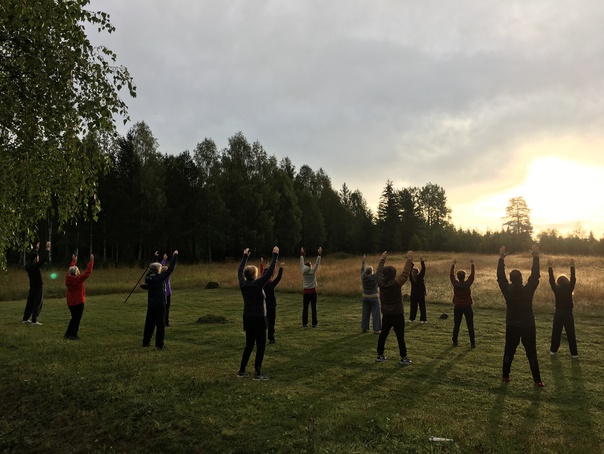 What we will practice?
Practicing inside being outside.
We will have the opportunity to practice both inside and outside in the phenomenal nature at Valdres.
Focusing on The Golden Thread Teachings as created by Pamela Hiley.
Remembering
Repeating
Rejuvenating
with:
Silence
Spontanaity
Stability
A detailed program prepared presently.
Includes:
Chen Man Ching Short Form – 37 posture Form
Wudangshan Baduanjin Qigong – 8 pieces of Silken Brocades
Dao Now Meditation
Seeds of Silence
---
Course Fee:
Course fee with full board and lodging included in the prices.
Single room in shared hut: Kr. 18.000,- (limited number)
Double room (bunk beds) in shared hut: Kr. 16.000,-
Camping – please enquire to pamela@taiji.no
Donation for a daonation is also possible please contact Pamela – pamela@taiji.no
Transport to and from the retreat centre to be covered by your self.


---

Registration and further information:
Registration is now open: here. 2023 Open for booking!
Additional information/queries contact pamela@taiji.no Mob:+47 91160581
---
Please inform Pamela on booking form here if you wish assitance with travelling by car or public transport.
Dharma Mountain serves vegetarian food, with optional gluten free, lactose free and vegan dishes if booked at least 10 days in advance.
Please let Pamela know if you have any special dietary needs on booking form here.
Warm welcome to all!
With dao in dantein,
Pamela
---
Pamela Hiley – Director
Norsk Taiji Senter
Mob: +47 9116+581